Salomé Voegelin's Uncurating Sound, Book Launch 14 March 2023 6-9pm in-person @lcclondon
book a spot:
book tickets
ARS congratulates team member Salomé Voegelin on the publication of her book!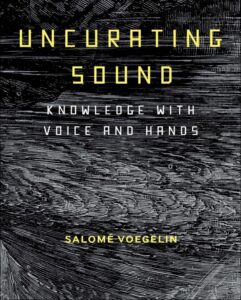 An evening celebrating the publication launch with Salomé Voegelin and special guests Lina Džuverović, Richard Hylton and Cécile Malaspina
To celebrate the publication of Uncurating Sound: Knowledge with Voice and Hands, Bloomsbury, NY, 2023, by Salomé Voegelin, we are pleased to welcome Lina Džuverović, Richard Hylton and Cécile Malaspina, who will each respond to the book through a short intervention and then enter into conversation with each and the author, to speculate together on the institutional and socio-political consequences that might arise from the possibility of a sonic (sensory) knowledge enabled by uncurating.
Uncurating Sound will be available to buy on the night during a drinks reception that will follow the talks.
Uncurating Sound performs, across five chapters, a deliberation between art, politics, knowledge and normativity. It foregrounds the perfidy of norms and engages in the curatorial as a colonial knowledge project, whose economy of exploitation draws a straight line from Enlightenment's desire for objectivity, through sugar, cotton and tobacco, via lives lost and money made to the violence of contemporary art.
Salomé Voegelin is a Professor of Sound at London College of Communication, member of CRiSAP, and an artist and writer engaged in listening as a socio-political practice of sound.
Lina Džuverović is a Lecturer at the Film, Media and Cultural Studies Department, Birkbeck College, University of London, where she also co-directs BIRMAC-Centre for Interdisciplinary Research in Media and Culture.
Richard Hylton is curator, writer and artist. Since the early 1990s, he has organized a significant number of exhibitions and edited publications involving a wide range of practitioners.
Cécile Malaspina is a program director for the Collège International de Philosophie, Paris, as well as for the Art & Curatorial Practice program at New Centre for Research and Practice
Full texts and accessibility info are on Eventbrite