ARS - Art_Research_Sound is a research project on sound as located between the arts and the sciences.
We, a group of artists and musicologists, analyze sounding situations and sound art.
We explore avenues of artistic research and collaborations between artists and scientists. Our particular focus is research on the
Cultural Practice of Sound
In the Context of Sound Art and Sound Research (ARS - CUPRAS)
We develop strategies to advance art and research on and in sound.
… it's all about listening
---
________________________________________
NEWS
upcoming event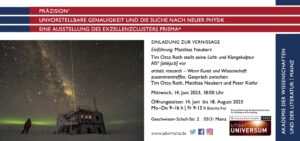 Herzliche Einladung !
14. Juni 18:00
Vernissage: PRÄZISION+, Unvorstellbare Genauigkeit und die Suche nach neuer Physik mit PRISMA+
Akademie der Wissenschaften und Literatur Mainz

Zur Eröffnung wird der Konzeptkünstler und Komponist Tim Otto Roth in einem Vortrag u.a. seine Licht-und-Klang-Installation AIS³ [aiskju:b] vorstellen, bei der er mithilfe von 444 illuminierten Lautsprechern im Kleinen die Abläufe im »verrücktesten Teleskop der Welt« – dem IceCube Neutrino Observatorium – erfahrbar gemacht hat.
Im Anschluss spricht er mit dem Klangkünstler Prof. Peter Kiefer (ARS) und dem Physiker Prof. Dr. Matthias Neubert, einem der Sprecher von PRISMA+, darüber, was passiert, wenn Kunstwerk und wissenschaftliches
Experiment zusammentreffen.
________________________________________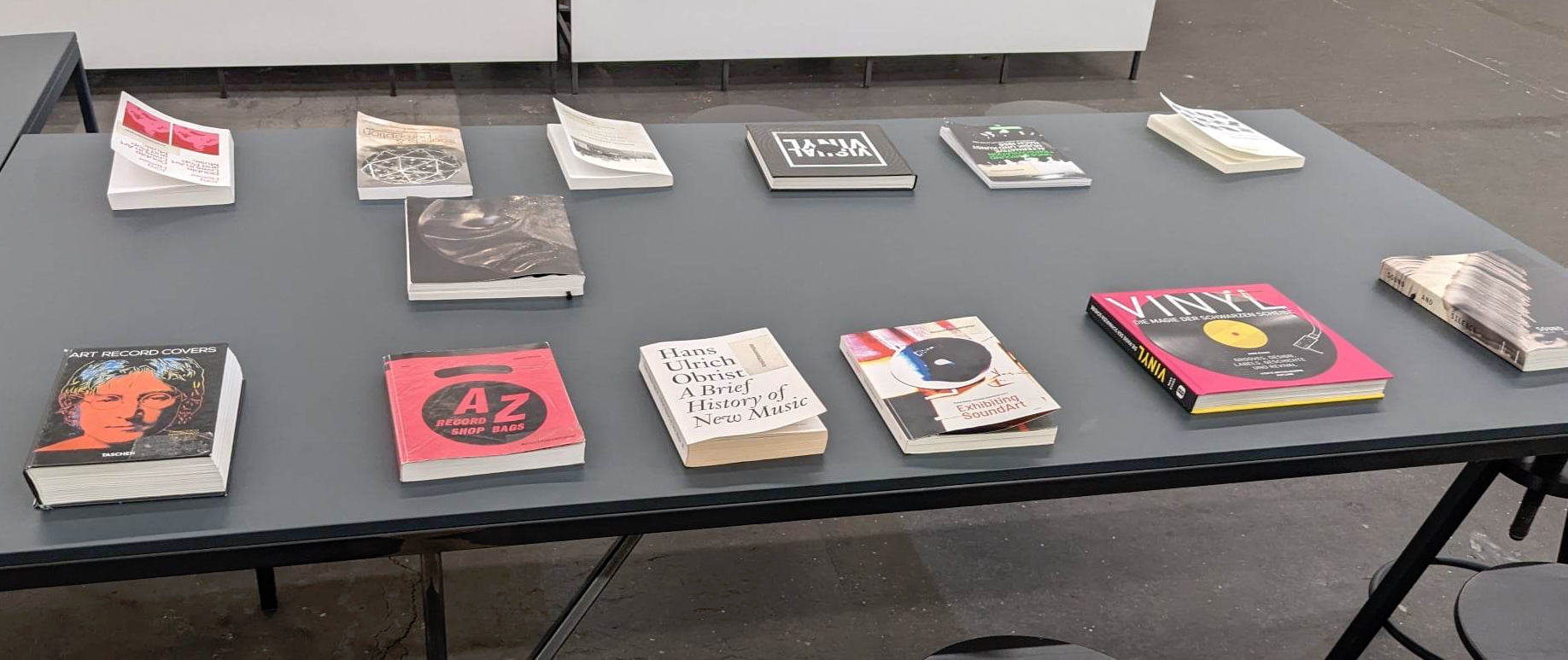 Broken Music Vol. 2
70 Jahre Schallplatten und Soundarbeiten von Künstler*innen
17.12.2022 bis 14.05.2023
Hamburger Bahnhof – Nationalgalerie der Gegenwart

Book "Exhibiting Sound Art" for the exhibition broken music
We are happy and proud to have learned that our book also found its way to the Hamburger Bahnhof for the vol.2 of the renowned exhibition broken music and was displayed there.
Broken Music, Berlin
________________________________________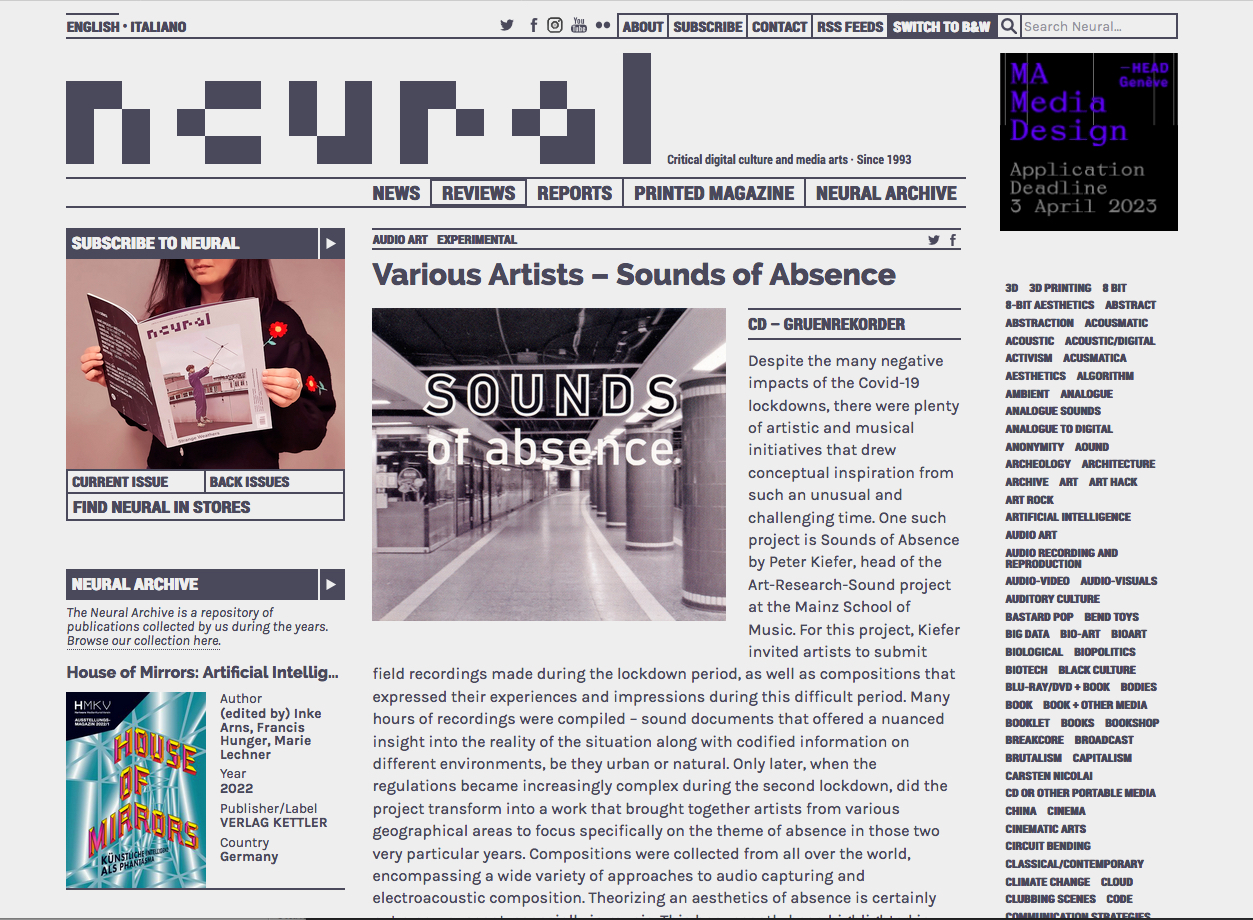 Neural is a printed magazine established in 1993 dealing with new media art, electronic music and hacktivism.

Review 9. Febr. 2023
audio artexperimental
Various Artists – Sounds of Absence
various-artists-sounds-of-absence
CD – Gruenrekorder
Despite the many negative impacts of the Covid-19 lockdowns, there were plenty of artistic and musical initiatives that drew conceptual inspiration from such an unusual and challenging time. One such project is Sounds of Absence by Peter Kiefer, head of the Art-Research-Sound project at the Mainz School of Music. For this project, Kiefer invited artists to submit field recordings made during the lockdown period, as well as compositions that expressed their experiences and impressions during this difficult period. Many hours of recordings were compiled – sound documents that offered a nuanced insight into the reality of the situation along with codified information on different environments, be they urban or natural. Only later, when the regulations became increasingly complex during the second lockdown, did the project transform into a work that brought together artists from various geographical areas to focus specifically on the theme of absence in those two very particular years. Compositions were collected from all over the world, encompassing a wide variety of approaches to audio capturing and electroacoustic composition. Theorizing an aesthetics of absence is certainly not a new concept, especially in music. This has recently been highlighted in relation to Glenn Gould, but there are an infinite number of examples starting with 4'33" by John Cage, or in the visual arts with Lucio Fontana, Edward Hopper and others, not to mention how it has been expressed in contemporary architecture. To be even more radical, one could say that the history of modern art is pervaded by the theme of absence if, as Deleuze and Guattari observed, it is a series of indefinable ephemeral sensations that compels us to look to other objects and memories. Absence is then an empty form that contains an induced and never satisfied desire, it works on unconscious and symbolic mechanisms, for which nothing can be certain. Alvin Curran, Lasse-Marc Riek, Juan Bermúdez, Wingel Mendoza and Stefan G. Fricke, to name just a few of the artists who participated in the project, have focused precisely on these mechanisms. It is the complexity and diversity of their contributions that make this collection truly special – a document of a dark time, but a time that was never without hope.
Review: Sounds of Absence on neutral.it
________________________________________
Listening and Sound Art with Peter Kiefer | INVITATION
Thursday, on May 4th, Cologne
Agnesbuchhandlung, Neusser Str. 63, 50670 Köln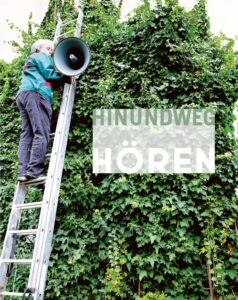 Not listening into a private conversation can be difficult, and yet most of the time we don't really listen: to the sounds and noises of our surroundings. The sound artist Peter Kiefer has made it his profession to listen and to build constellations that bring to mind the productivity of sounds – as he and Michael Zwenzner present in "Exhibiting SoundArt" (wolke 2022).
Next Thursday, on May 4th, the director of the Mainz art research sound programme will present his and other's work at Agnes Buchhandlung in Cologne. Come by for a performance, introduction into listening and sound installation and join in the conversation!
Neusser Str. 63, 50670 Köln
Telefon: 0221 7200733
/\/\/\ \/\/\/ /\/\/\ \/\/\/ /\/\/\ \/\/\/ /\/\/\
Hinundweg Hören
Peter Kiefer @ Agnesbuchhandlung Köln
Organized by Wolke Verlag
Thursday \ May 4th / 8 pm
free admission / RSVP via https://agnesbuchhandlung.buchhandlung.de/shop/
________________________________________

On the death of Peter Weibel
We from the ARS and the Sound Art Department at the Hochschule für Musik Mainz are deeply
saddened by the death of this energetic artist and motivator.
He did a lot for sound art and we are happy that we were able to meet him at the Sound Art at the ZKM
(the blue header picture shows the work resonate at the ZKM) and on other occasions.
He described himself as a sound artist and musician, among other things, and had a lasting impact
on the landscape of media art! He leaves a big gap and will be remembered.
Prof. Peter Kiefer for the Sound Art programme at the Johannes Gutenberg University Mainz.
________________________________________
upcoming event
Salomé Voegelin's Uncurating Sound, Book Launch
London
14 March 2023 6-9pm in-person @lcclondon
book a spot:
book tickets
ARS congratulates team member Salomé Voegelin on the publication of her book!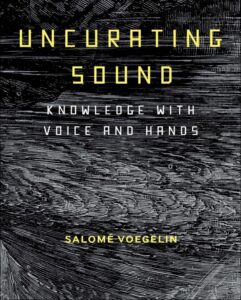 An evening celebrating the publication launch with Salomé Voegelin and special guests Lina Džuverović, Richard Hylton and Cécile Malaspina
To celebrate the publication of Uncurating Sound: Knowledge with Voice and Hands, Bloomsbury, NY, 2023, by Salomé Voegelin, we are pleased to welcome Lina Džuverović, Richard Hylton and Cécile Malaspina, who will each respond to the book through a short intervention and then enter into conversation with each and the author, to speculate together on the institutional and socio-political consequences that might arise from the possibility of a sonic (sensory) knowledge enabled by uncurating.
More information: link to facebook
________________________________________
Buchpräsentation - book presentation
15. Februar 2023 - 15 h Museumsquartier , Wien, Vienna
Joint book presentation featuring
Exhibiting Sound Art, edited by Peter Kiefer & Michael Zwenzner
and
Klangräume | Hörorte (Listening Places | Sound Spaces) by Bernhard Gal.
Both books were published by wolke in 2022.
Presented by tonspur, Vienna
2 Klangkünstler – 2 Bücher
TONSPUR Kunstverein Wien stellt an zwei Orten im MuseumsQuartier Wien – der Barocken Suite C und der Buchhandlung Walther König im MuseumsQuartier Wien zwei Bücher über Klangkunst vor und lädt zur Diskussion mit den Autoren ein.
Beide beschäftigen sich mit einem Thema, das für Kunstschaffende wie für Kuratoren von vitalem Interesse ist, nämlich wie präsentiert man Klangkunst und wovon hängt die Wirkung von Klangkunst in der Öffentlichkeit ab.
Beide Bücher sind Ende 2022 im Wolke Verlag erschienen.
Link: wolke-verlag.de/
__________________________________________________________________
Programm
15:00 • Bernhard Gál, Präsentation HÖRORTE | KLANGRÄUME
16:00 • Peter Kiefer, Präsentation Exhibiting SoundArt Barocke
📍 Suite C - MQ Direktion, Hauptdurchgang, 1. Stock
17:30 • Barbara Barthelmes im Gespräch mit Bernhard Gál und Peter Kiefer
📍 17:30–19:00 • Buchhandlung Walther König im MQ Wien
@KoenigWien
Eintritt frei
Um Anmeldung wird gebeten unter sound@tonspur.at
Buchpräsentation und Buchgespräch in deutscher Sprache.
Eine Veranstaltung von TONSPUR Kunstverein Wien in enger Zusammenarbeit mit Bernhard Gál, Peter Kiefer und Barbara Barthelmes. In Kooperation mit Wolke Verlag, Buchhandlung Walther König im MQ Wien und Q21/MuseumsQuartier Wien.
in Kooperation mir Buchhandlung Walther König,
MuseumsQuartier und Q21 (MuseumsQuartier Wien).
wolke - books on music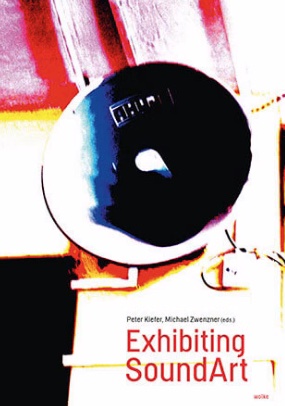 ________________________________________
---
Ausstellung auf dem Campus der JGU
Schule des Sehens
22.09. bis 30.10.22
geöffnet: Di - Fr 15 - 19 Uhr, So 13 - 17 Uhr
Hochschule für Musik Mainz
Kammermusiksaal, Spiegelsaal, Treppenhaus
22.09. bis 13.10.22
geöffnet: Di - Fr 15 - 19 Uhr, So 13 - 17 Uhr
Der Eintritt ist frei.
Die Ausstellung wird von einer Dokumentation über den Künstler und sein Werk begleitet.
Wir danken dem Gutenberg Forschungskolleg und der Schule des Sehens.