Neuerscheinung im Wolke Verlag - jetzt hier erhältlich: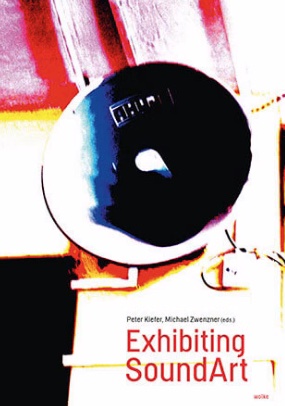 Museum directors, scholars, journalists and editors explore the variety of relations between sound as an object of investigation. Issues of sound as a medium of art and culture and possibilities and conditions of exhibiting sound art will be discussed. Sound art has become an integral part of art and music festivals for several decades, and is shown in museums, experimental venues and public spaces. Sound art requires a special approach in the way it is curated, conceived, produced and reenacted. Exhibiting Sound Art brings together internationally renowned museum directors, curators and exhibition makers, scholars, journalists, editors and artists to discuss this question. The manifold relationships between sound as an object of investigation are explored and questions of sound as a medium of art and culture as well as possibilities and conditions of exhibiting sound art are presented. The different approaches are vividly illustrated with numerous images.
In the first part of the book, entitled "History, Reflection, Experiment", musicologists present their approach: Helga de la Motte-Haber, Julia H. Schöder and Michael Zwenzer. The science historian Hans-Jörg Rheinberger deals with the epistemic interest of artistic experiments and Joshua Weitzel reports on the sound art of all past documentas. Salomé Voegelin brings her curatorial performance back to life in a text score to be partly performed by yourself.
The practical issues are addressed in the section "Practice, Institution, Results": Thomas D. Trummer director of Kunsthaus Bregenz, reports on Bruce Naumann at the Tate Modern, Gabriele Knapstein, director Hamburger Bahnhof Berlin, on sound art exhibitions in this museum. Important festivals of sound art are represented by their artistic directors: Björn Gottstein, Donaueschingen, Carsten Seiffarth, bonn hoeren, Julia Cloot, Sound Art in Industrial Culture, Kulturfonds Frankfurt RheinMain. Julia Gerlach presents projects from her many years of practice as a sound art curator, including the Sound Art exhibition at the ZKM | Center for Art and Media Karlsruhe and the daadgalerie Berlin.
Maija Julius, who administers the estate of Rolf Julius, gives a first-hand account of her experience in reinstalling existing works by her father.
The texts by and about Miya Masaoka, about Bernhard Leitner and Peter Kiefer by Stefan Fricke and Anne Katrin Voss provide an insight into the artistic work and associated personal reflections.
In addition, there are two separate chapters featuring the sound art exhibited during the Gutenberg Sound Art Course in summer 2019, presenting works by Bernhard Leitner, Miya Masaoka, Peter Kiefer and works developed especially for the occasion by the ten sound artists from around the world who participated in the summer course.
In English
248 S., 150 photos, pb., € 29.80, 978-3-95593-098-1