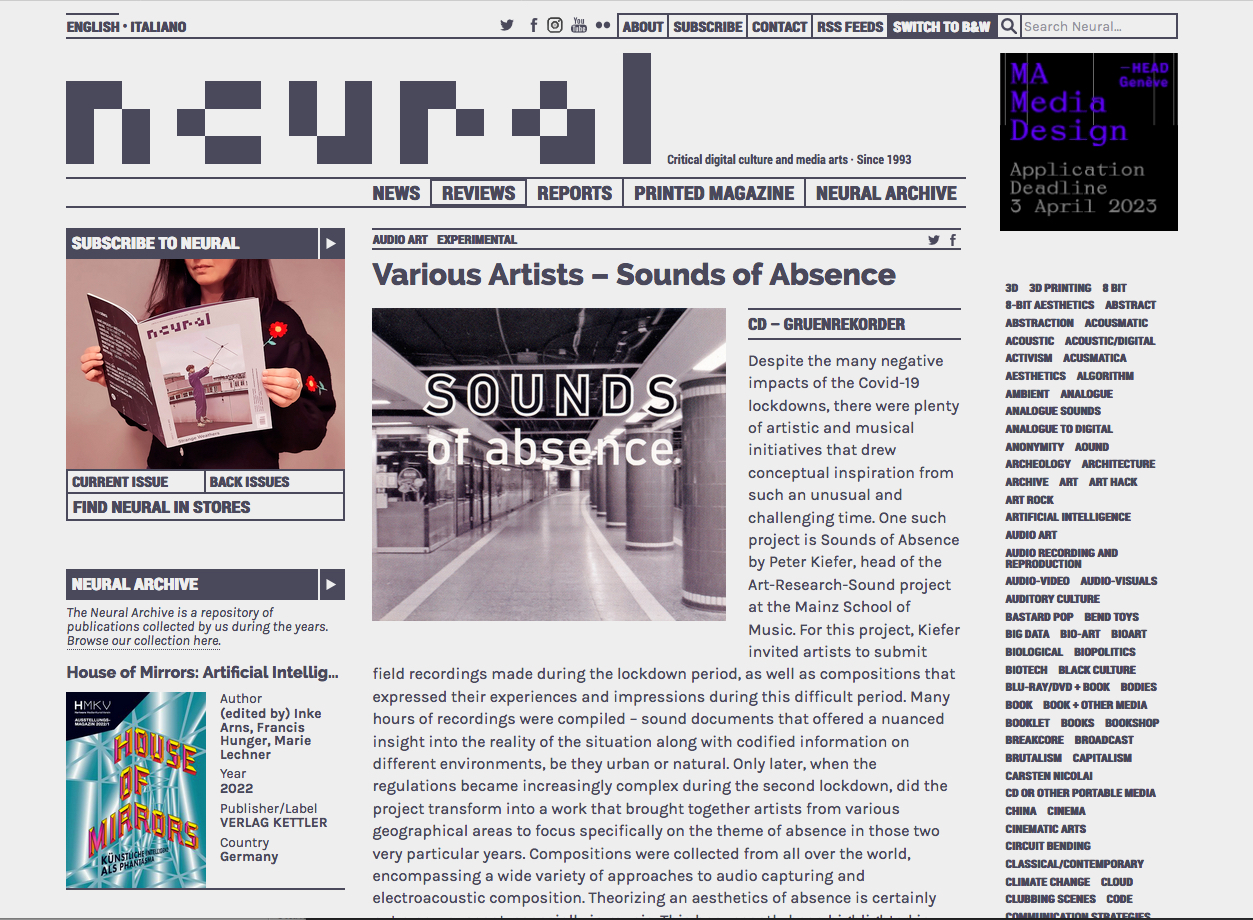 Neural is a printed magazine established in 1993 dealing with new media art, electronic music and hacktivism.

Review 9. Febr. 2023
audio artexperimental
Various Artists – Sounds of Absence
various-artists-sounds-of-absence
CD – Gruenrekorder
Despite the many negative impacts of the Covid-19 lockdowns, there were plenty of artistic and musical initiatives that drew conceptual inspiration from such an unusual and challenging time. One such project is Sounds of Absence by Peter Kiefer, head of the Art-Research-Sound project at the Mainz School of Music. For this project, Kiefer invited artists to submit field recordings made during the lockdown period, as well as compositions that expressed their experiences and impressions during this difficult period. Many hours of recordings were compiled – sound documents that offered a nuanced insight into the reality of the situation along with codified information on different environments, be they urban or natural. Only later, when the regulations became increasingly complex during the second lockdown, did the project transform into a work that brought together artists from various geographical areas to focus specifically on the theme of absence in those two very particular years. Compositions were collected from all over the world, encompassing a wide variety of approaches to audio capturing and electroacoustic composition. Theorizing an aesthetics of absence is certainly not a new concept, especially in music. This has recently been highlighted in relation to Glenn Gould, but there are an infinite number of examples starting with 4'33" by John Cage, or in the visual arts with Lucio Fontana, Edward Hopper and others, not to mention how it has been expressed in contemporary architecture. To be even more radical, one could say that the history of modern art is pervaded by the theme of absence if, as Deleuze and Guattari observed, it is a series of indefinable ephemeral sensations that compels us to look to other objects and memories. Absence is then an empty form that contains an induced and never satisfied desire, it works on unconscious and symbolic mechanisms, for which nothing can be certain. Alvin Curran, Lasse-Marc Riek, Juan Bermúdez, Wingel Mendoza and Stefan G. Fricke, to name just a few of the artists who participated in the project, have focused precisely on these mechanisms. It is the complexity and diversity of their contributions that make this collection truly special – a document of a dark time, but a time that was never without hope.